General (Rtd) Samson Mwathethe EGH MBS DCO 'ndc' (K) 'psc' (UK) - Chairman of the Board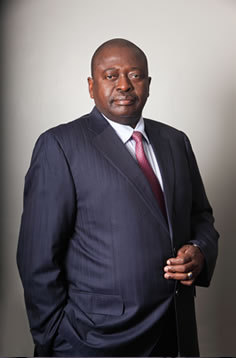 General (Rtd) Samson Mwathethe, the Chairman of the Board of Directors is the immediate former Chief of Defence Forces of the Republic of Kenya. He retired from the Kenya Defence Forces in May 2020 after serving as the Chief of the Kenya Defence Forces for five years. He currently heads the Oceans and Blue Economy Office. He has held various command appointments, including Vice Chief of the Defence Forces, Commander Kenya Navy, Deputy Commander Kenya Navy, Kenya Navy Logistics Commander, Base Commander Mtongwe and Fleet Commander. His other appointments included Chief of Systems & Procurement, Department of Defence, Command of individual Kenya Navy Ships, Staff Officer Operations at Navy Headquarters, 86 Squadron Commander and Staff Officer I Co-ordination at the Department of Defence. His other professional and military training includes International Sub-Lieutenants Course (UK), International Principal Warfare (IPWO) Course (UK), Missiles Course (Italy) and the Royal Naval Staff College, Greenwich, (UK) in 1989. He also attended the Defence Resource Management Course in Monterey, USA in 1998, and the National Defence College in Nairobi, Kenya in 2000.
He also served with the United Nations as a Military Observer in Kuwait/Iraq and Yugoslavia in 1991/92. His decorations include Elder of the Golden Heart of Kenya (EGH), Distinguished Conduct Order (DCO), Moran of the Burning Spear (MBS), among others.
General (Rtd) Samson Mwathethe was born in 1958 and went to Sacred Heart High School in Mombasa, before joining the Kenya Navy in April 1978. He was commissioned in 1980 as a Seaman Officer after attending Britannia Royal Naval College, Dartmouth.
General (Rtd) Mwathethe brings to the KenGen Board immense wealth of experience in strategy and leadership which will steer KenGen on our noble mandate to generate reliable, safe and competitively priced electric energy for the nation and diversify the business to expand the revenue streams. Under General Mwathethe's leadership, KenGen is committed to strengthening its stakeholder relations as we continue to build a responsive and dynamic business that takes into account the emerging technological advancements and social trends.
Mrs. Rebecca Miano, OGW - Managing Director & CEO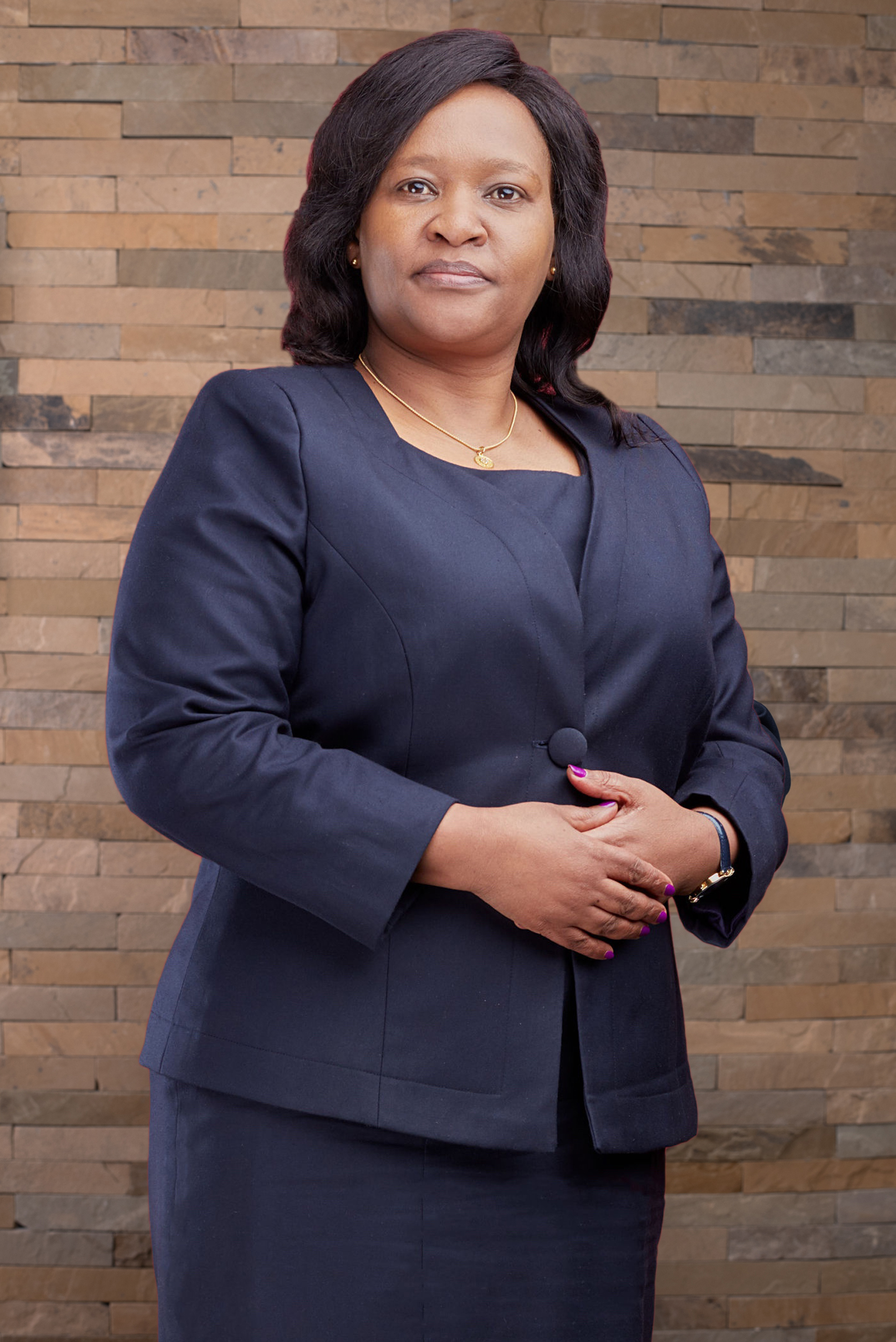 Mrs. Rebecca Miano is the Managing Director & CEO of Kenya Electricity Generating Company PLC (KenGen), a position she has held since October 2017. She is the first woman to hold the position since the company was established in 1954.
Mrs. Miano has close to 30 years consolidated experience in the energy sector, having started off her career at the Kenya Power and Lighting Company (KPLC) in 1991. Over the years, she has carved for herself a niche in Business Law and Corporate Governance. In 2010, while serving as KenGen's Company Secretary & Legal Affairs Director, she won the Company Secretary of the Year award in the Champions of Governance Awards series. The same year, she was awarded the Order of the Grand Warrior of Kenya (OGW) by the Head of State in recognition of her outstanding service to the nation. In 2019, she received another presidential decoration - the Moran of the Order of the Burning Spear – from H.E. President Uhuru Kenyatta for her contribution to the growth of Kenya's energy sector.
Between July 2015 and February 2016, Mrs. Miano was appointed to hold brief as Human Resource and Administration Director in addition to her role of Company Secretary and Legal Affairs Director. This is a period she describes as a defining moment in her career, especially when it comes to working with people.
Mrs. Miano has been a member of St. Paul's University Council since 2010 where she chaired the Finance and General Purposes Committee from 2013 to 2016. She has also served in the Finance Committee of the National Council of Churches of Kenya (NCCK). In November 2019, she was appointed to the Board of Global Compact Network, Kenya. The same year, she was named among the Top 100 Women CEOs in Africa by Reset Global People in partnership with Pulse and Avance Media. Mrs. Miano has recently joined the World Bank Group's Advisory Council on Gender and Development.
Mrs. Miano holds a Bachelor of Laws (LLB) Degree, a Diploma in Law and Post-graduate studies in Comparative Law. In 2010, she completed the Advanced Management Programme from Strathmore University. She is a registered Certified Public Secretary of Kenya and is a member of the Institute of Certified Public Secretaries of Kenya (ICPSK) and the Law Society of Kenya (LSK). Additionally, she is a Commissioner of Oaths (Since 2001), a Notary Public (since 2003) and a finalist of the Chartered Arbitrator.
During her tenure as CEO, Mrs. Miano has led KenGen's diversification agenda under the Good-2-Great transformative strategy. This has seen KenGen venture into the African market offering renewable energy solutions most notably in the horn of Africa where the company is currently implementing two large geothermal development projects.
Mrs. Miano is married with two children. She enjoys spending her free time reading, travelling and watching plays and sometimes knitting.
Hon. Amb. Ukur Yatani Kanacho - Cabinet Secretary The National Treasury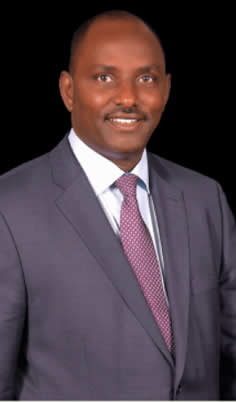 Hon. Hon. Amb. Ukur Yatani Kanacho, has over 27 years experience in Public Administration, Politics, Diplomacy and Governance in public sector since 1992. Between the years 2006-2007 while Member of Parliament for North Horr constituency, he also served as an Assistant Minister for Science and Technology. At the height of his career (March 2013-August 2017), he served as a pioneer Governor of Marsabit County, the largest County in the Republic of Kenya, (May 2013-June 2015) as the Chair of Foreign Affairs Committee, Council of Governors, (May 2015-June 2017) as Chief Whip, Council of Governors Kenya, and Between June 2009 and October 2012, he also served as Kenya's Ambassador to Austria with Accreditation to Hungary and Slovakia and Permanent Representative to the United Nations in Vienna. In this position, he aggressively pursued and advanced Kenya's foreign interests.
He held senior leadership positions at various diplomatic and international agencies such as International Atomic Energy Agency (IAEA), United Nations Organization on Drugs and Crimes (UNODC), United Nations Industrial Development Organization (UNIDO), Vice Chairperson of United Nations Convention Against Transnational Organized Crime (UNTOC), Vice President of Convention on Crime Prevention and Criminal Justice (CCPJ), and Chair of African Group of Ambassadors among others. He also served as the Cabinet Secretary Ministry of Labour and Social Protection between the years 2017 – 2019.
He has Master of Arts in Public Administration and Public Policy, University of York, United Kingdom, 2005; and Bachelor of Arts in Economics, Egerton University, Kenya, 1991.
Joseph Njoroge CBS - Board Member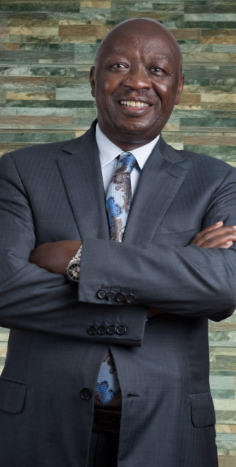 Dr. Eng. Joseph Njoroge, the Principal Secretary, State Department for Energy, was born in 1958. He holds a First Class Honours degree in Electrical Engineering, Master of Business Administration with a major in strategic management and a doctor of philosophy (PhD). He is a Chartered Electrical Engineer, a member of the Institution of Engineering and Technology UK, a registered consulting engineer, and is also a fellow of the Institution of Engineers of Kenya. He is a member of the Institute of Directors (Kenya).
Dr. Eng. Joseph Njoroge joined Kenya Power in 1980 and rose through the ranks to become the Managing Director from June 2007 until his current appointment to the position of Principal Secretary in the Ministry of Energy and Petroleum in May 2013 and became the Principal Secretary in the State Department for Energy following reorganisation of the government structure. He is a distinguished electrical engineer with a career spanning three decades and has wide experience in power engineering and management.
Dr. Musa Arusei - Board Member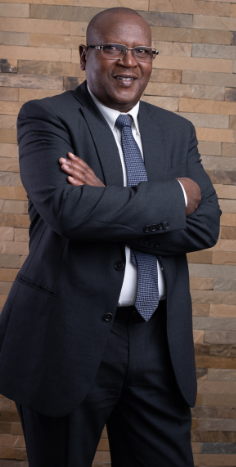 Dr Arusei, born in 1957, holds a Bachelor of Science degree (Geochemistry) from the University of Nairobi, Master of Science (Geothermal) from the University of Leeds, UK and a Doctor of Philosophy (Geochemistry) from Moi University. He is a member of the Institute of Directors (Kenya).
He is formerly a senior lecturer, Department of Chemistry and Biochemistry at the University of Eldoret. Dr Arusei supervises and marks thesis for doctorate and master's students. He has attended various local and international conferences on research and geochemistry. He has also published several research publications and reports on geochemistry and geothermal studies.
Dr Arusei has previously worked as a lecturer and assistant lecturer at the Department of Chemistry and Biochemistry at the University of Eldoret. He has also worked as a geochemist in KenGen and the Ministry of Energy.
Kairu Bachia - Board Member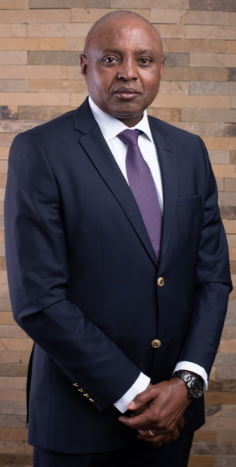 Mr. Bachia, born in 1959, holds a Bachelor of Arts degree in Building Economics from the University of Nairobi and a Global Executive MBA (GEMBA) from United States International University-¬Africa. As part of continuous professional education and personal development, he has attended, amongst many other courses, the Owner Manager Program (OMP) at Strathmore Business School. He is a Registered Quantity Surveyor with the Board of Registration of Architects and Quantity Surveyors (BORAQS), a Fellow Member of the Architectural Association of Kenya (AAK) and a Corporate Member of the Institute of Quantity Surveyors of Kenya (IQSK): a Member of the Chartered Institute of Arbitrators (CIArb): a member of the Institute of Directors (Kenya) and is a Certified Professional Mediator. He is an active Arbitrator, Mediator and a consultant in the areas of Alternative Dispute Resolution (ADR) and Construction Contract Management.
Mr. Bachia who has previously worked as a quantity surveyor in both the public and private sectors, is currently the Team Leader and Quality Control Director of Masterbill Integrated Projects and MIP Project Management Ltd.
He is the Chairman of the Joint Building & Construction Council (JBCC), a past Chairman of the Architectural Association of Kenya; a past Chairman and captain of Muthaiga Golf Club (MGC), and a past Secretary of the Kenya Professional Boxing Commission (KPBC). He has also served as a Council Member of the management of Professional Centre for the Association of Professional Societies of East Africa and was a committee member in the Ethics and Practice Committee of BORAQS.
Phyllis K. Wakiaga - Board Member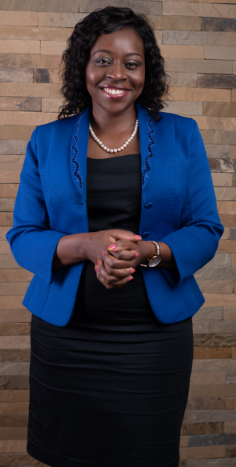 Mrs Phyllis Kemunto Wakiaga, born in 1981, holds a Bachelor of Law from the University of Nairobi, Diploma in Law from Kenya School of Law, Masters in Business Administration from Jomo Kenyatta University of Agriculture and Technology and Masters in International Trade and Investment Law from University of Nairobi. She also holds a Higher Diploma in Human Resources Management from the Institute of Human Resource Management. She is an advocate and member of Law Society of Kenya. She is also an associate member of the Institute of Human Resource Management. She has also attended various professional legal, leadership and strategy training programs.
Mrs. Wakiaga is presently the Chief Executive Officer of Kenya Association of Manufacturers. She is a member of the Governing Council of the Management University of Africa and also the United Nations Global Compact Network Representative in Kenya.
Joseph Sitati - Board Member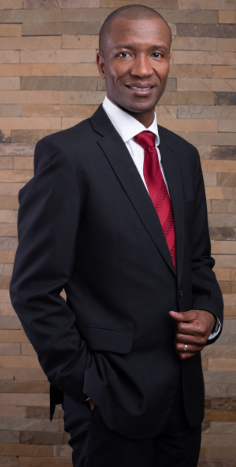 Mr. Sitati, born in 1973, holds a Bachelor of Science (Mechanical Engineering) from the University of Nairobi. He is a Fellow of the Association of Chartered Certified Accountants and is a platinum member of the Information System Audit and Control Association. He has attended various professional development training programs. He is a member of the Institute of Directors (Kenya).
He was the Chief Finance and Administration Officer at Deacons East Africa PLC. He has previously been the Commercial Finance Manager – Central East & West Africa Business Unit at the Coca-Cola Company, Nairobi, Group Finance Director at Old Mutual Group, Nairobi, and Finance Manager at Shell BP Kenya Limited amongst other positions.
Dr. Reginalda Wanyonyi - Board Member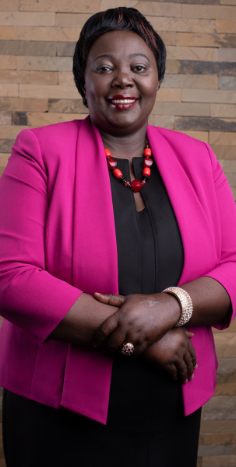 Dr.Reginalda Nakhumicha Wanyonyi born in 1960 holds a Bachelors degree in Education in Economics and Business Studies, Masters degree in Environmental Studies and a PhD in Environmental Studies. She is the former Woman Representative for Bungoma County and served as a member of the Parliamentary Committee on Environment, Water and Natural Resources as well as the Budget and Appropriations Committee. She was integral in the initiation and passing of key legislation including The Water Act and The Forest Act.
Dr. Wanyonyi is a lead expert at the National Environmental Management Agency (NEMA). She is a trustee at leading NGOs such as Sacred Africa and Inter-Christian Fellowship Mission. She has served as a lecturer and senior administrator at Moi University. She has also held directorship positions at the Jomo Kenyatta Foundation and New Partnership for Africa's Development (NEPAD).
Maurice Nduranu - Board Member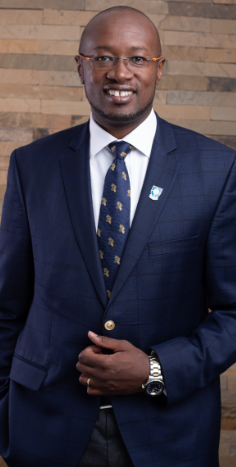 Mr. Maurice Nduranu has twenty plus years of work experience, over ten of which have been at senior management / leadership level in several world-class organizations. He has worked for one of the top public infrastructure consulting firms in the U.S. west, DPFG, one of the largest African investment bank / asset management firms, African Alliance, and the pioneer impact investment fund, Acumen. He has led experienced multi-disciplinary, multi-cultural teams in various sectors & geographies from structuring public infrastructure financing to managing public pension & deposit protection assets. He has also overseen and managed investments into businesses in the region ranging from agri-business to financial services and from manufacturing to retail.
Maurice graduated magna cum laude from the California State Polytechnic University at Pomona with a BSc in Business Administration - Finance, Real Estate, & Law. He also holds a Master of Financial Engineering degree from the Haas School of Business at the University of California, Berkeley. He is a member of the Institute of Directors, Kenya.
Peris Mwangi - Board Member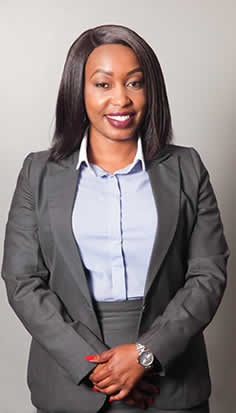 Ms. Peris Mwangi born in 1990, holds a Bachelor of Laws degree (LLB) from Kabarak University and a Postgraduate Diploma from the Kenya School of Law. She is currently pursuing a post-graduate degree (LLM Intellectual Property Law) at the University of Leeds.
Ms. Mwangi has worked in several law firms and institutions. She is currently a Partner at H. Kago & Co. Advocates.
Humphrey Muhu - Alternate to Cabinet Secretary - National Treasury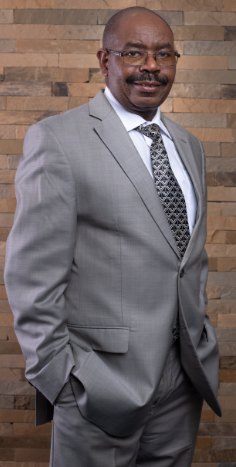 Mr Muhu was born in 1964 and holds a BSc (Mathematics & Statistics) from Kenyatta University B.Phil (Economics) and an MA in Economics from the University of Nairobi. He also holds a Diploma in Financial Management from KCA University.
He is the alternate director to the Cabinet Secretary, National Treasury. Mr Muhu is an Economist with 20 years' experience in various government ministries and departments.
William Mbaka - Alternate to Principal Secretary, State Department for Energy
Mr Mbaka who was born in 1962 holds a Bachelor of Education (Business Studies) from Kenyatta University and Master of Business Administration from Birmingham University, UK. He is a member of the Association of Chartered Certified Accountant (ACCA). He has attended several courses on leadership, public policy management, financial management and leadership at various institutions both locally and abroad.
He is the alternate director to the Principal Secretary, Ministry of Energy and Petroleum (MOEP) and is currently the Chief Finance Officer at MOEP. Mr Mbaka has over 20 years' experience in financial management in the Government of Kenya.
News Highlights