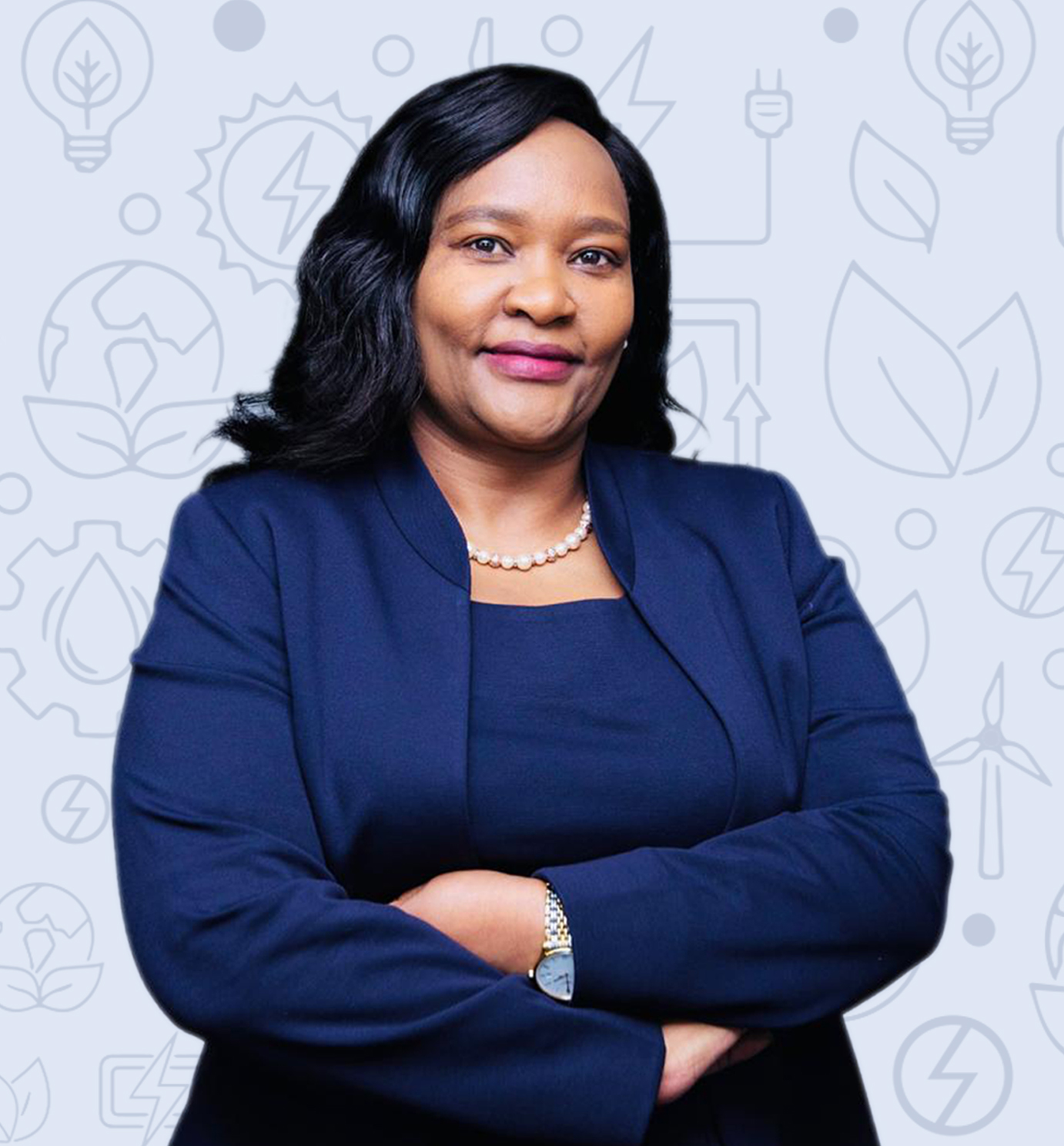 Mrs. Rebecca Miano is the Managing Director & CEO of Kenya Electricity Generating Company PLC, a position she has held since October 2017.
She has close to 30 years' experience in the energy sector where she has had a distinguished multifaceted career which has earned her global recognition as a continental business leader. Mrs. Miano is a strong champion of sustainability as is demonstrated in the implementation of KenGen's business transformation agenda. This has seen the Company shift its strategy to focus on diversification to build internal resilience and gain competitive edge in an everevolving operating environment. She has built her expertise over the years in a wide range of specialities including renewal energy, structuring global and regional multi-million business projects, modelling of international regulatory framework in sustainable development and climate change, policy development, corporate governance and business law. She is focused on growing KenGen's footprint in geothermal development across Africa and under her leadership, the Company has successfully implemented several large geothermal projects in the continent.
Some of Mrs. Miano's recent recognitions and awards include: appointment to the Board of Global Compact Network, Kenya in November 2019, appointment to Vice Chair in August 2022; joined the World Bank Group's Advisory Council on Gender and Development in July 2020; named among the Top 100 Women CEOs by Reset Global People in partnership with Pulse and Avance Media, named as one of the top 25 movers and shakers in Africa in 2021 by the African Energy Chamber, among other notable accolades.
Earlier in 2010, she won the Company Secretary of the Year award in the Champions of Governance Awards series. The same year, she was awarded the Order of the Grand Warrior
of Kenya (OGW) and in 2019, the Moran of the Order of the Burning Spear (MBS) in recognition of her outstanding service to the nation. Mrs. Miano has been a member of St. Paul's University Council since 2010 where she chaired the Finance and General Purposes Committee from 2013 to 2016. She has also served in the Finance Committee of the National Council of Churches of Kenya (NCCK). She is also a member of several Boards and also Chairs the giant Stima Sacco Board.
Mrs. Miano strongly believes in diversity mainstreaming and has over the years worked to improve the working environment for all employees to grow to their full potential. Notably, she founded the Pink Energy forum in KenGen to address female and gender parity to close the gap within the company. She has since advanced the Pink Energy agenda to an sectoral platform to enjoin the other state agencies within the Ministry of Energy. She also launched the Y-Gen youth forum to further institutionalise youth empowerment and personal professional development of all employees.
She holds a Bachelor of Laws (LLB) Degree, a Diploma in Law and Post-graduate studies in Comparative Law. In 2010, she completed the Advanced Management Program from Strathmore University. She is a registered Certified Public Secretary of Kenya and is a Member of the Institute of Certified Public Secretaries of Kenya (ICPSK) and the Law Society of Kenya (LSK). She has attended various leadership and business programs over her career. She was born in 1966.