Eng. Peter Njenga - Managing Director & CEO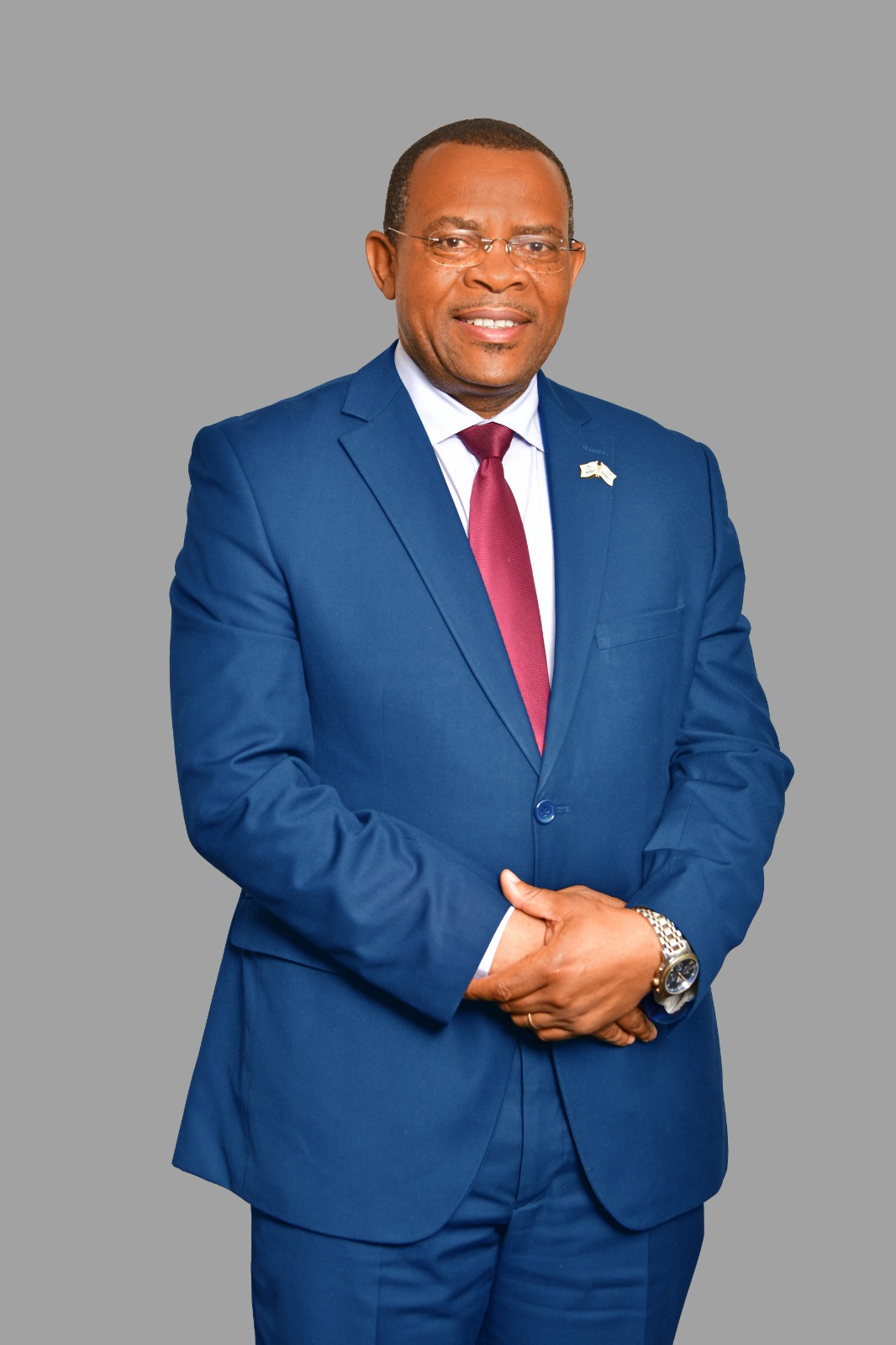 Eng. Peter Njenga is the Managing Director and CEO of Kenya Electricity Generating Company PLC (KenGen), East Africa's foremost electricity generation company, distinguished by its impressive 86% reliance on renewable and clean energy sources.
With a tenure that formally commenced on August 21, 2023, Eng. Njenga boasts an illustrious 32-year career in the energy sector, marked by exceptional leadership. He holds a Bachelor's Degree in Electrical Engineering, complemented by an MBA in Strategic Management from the prestigious University of Nairobi.
His status as a registered professional engineer adds to his credentials, standing as a paragon of expertise, augmented by a collection of certificates in senior leadership management, notably from Strathmore University and Harvard Business School, among other esteemed institutions.
Throughout his journey, Eng. Njenga has consistently showcased unwavering dedication to professionalism, excellence in service delivery, strategic acumen, and ethical stewardship, leaving an indelible imprint on industry growth and innovation. His remarkable ascent from Trainee Electrical Engineer to the esteemed position of General Manager of Infrastructure Development at Kenya Power & Lighting Company PLC (KPLC), to CEO of KenGen is a testament to his character, resilience, and visionary prowess.
Notably, his influential role as Chair in pivotal committees within the energy sector in Kenya underscores his resolute commitment to catalyzing transformative change, extending to the spheres of sustainability and climate action. Eng. Njenga seamlessly integrates his technical proficiencies with a results-oriented mindset, further reinforcing KenGen's ongoing triumph in delivering sustainable and dependable energy solutions, while also championing initiatives like tree planting to combat climate change.
Beyond his professional pursuits, Eng. Njenga is a passionate advocate for youth development and family values, reflecting his devotion to both his Christian faith and family life. In his leisure time, he finds enjoyment in cycling and swimming, showcasing a well-rounded persona both in and out of the boardroom.
Mr. Abraham Serem - General Manager, Corporate Services
Mr. Abraham Serem is a seasoned human resource practitioner with vast experience both in Kenya and East Africa. He holds a Bachelor of Arts degree from the University of Nairobi. His professional qualifications include: a Higher National Diploma in Human Resource Management and a Diploma in Intermediate Executive Coaching from the Academy of Executive Coaching.
He is a member of the Institute of Human Resource Management, Kenya.
Prior work experience includes Heineken East Africa Ltd where he held the position of Director, East Africa Breweries Ltd, Nampak East Africa and Reckitt Benckiser East Africa, where he held various senior managerial positions.
Mr. Serem joined KenGen management team on 1st March, 2016 as the Human Resource and Administration Director.
He is responsible for execution of Human Resource strategy to optimize human capital contribution and provide work environment that continuously adds value to stakeholders in provision of electric energy and business sustainability.
Departments:
Administration, Human Resource Services and Human Resource Development
Mr. Peketsa Mangi - General Manager, Geothermal Development
Mr. Mangi is an astute Geothermal energy expert with vast experience spanning over 20 years both locally and regionally. He holds a Master of Science (Information Science) from Moi University and is currently pursuing PhD. in Information Science from the same University. He is a Certified Project Manager (IPMA Level C). Further, he holds various certifications including: Earth Sciences, Reservoir Management, Drilling technology, Master negotiation skills, Public procurement, Geothermal projects management and financing, among others. He is currently the Vice Chairman of the Geothermal Association of Kenya (GAK), a member of the Geological Society of Kenya (GSK) and International Geothermal Association (IGA).
He has risen through the ranks to the position of Geothermal Development Director, having initially served as the Resource Development and Infrastructure Manager.
Key achievements include: successful negotiation of geothermal drilling contracts in Kenya, Djibouti and Ethiopia; project manager for geoscientific studies for consultancy services , capacity expansion at Olkaria through identification of geothermal potential areas; negotiated MoU between KenGen PLC and ITC, Netherlands; the Olkaria Geothermal Spa and Demonstration Centre, successful negotiation for the grant for upgrading of Geothermal Training Centre facilities.
Key responsibilities comprise: human resource management and administration, power plant availability, steam availability, reservoir management, drilling operations and management, resource exploration, projects planning and management, infrastructure development, budget management, and coordinating environmental and social impacts assessment frameworks.
Departments:
Geothermal Resource Development, Geothermal Operations, Drilling & Logistics, Reservoir & Steamfield Management
Mr. David Muthike - General Managers, Commercial Services
Mr. David Muthike is a distinguished business strategist with tested experience in power sector strategy-formulation and implementation.
He holds a Bachelor of Science degree in Electrical and Electronic Engineering, Master of Business Administration in Strategy, Post-Graduate diploma in Project Appraisal and Management and a certificate in Advanced Management and Leadership Programme. He is a graduate Engineer with Institution of Engineers of Kenya (IEK), a member of Engineers Board of Kenya (EBK), Kenya Institute of Management (KIM), and Geothermal Association of Kenya (GAK).
He joined KenGen in 1998. He was appointed to the Company's Strategy and Business Performance Division in September 2014. His major role is to support the Company in maintaining "thought leadership" in power generation and related services.
His responsibilities include: development and management of the Company's strategy by identifying and driving execution of strategic initiatives and growth opportunities; driving the
innovation process that develops new ways of meeting the Company's goals; leading and managing the Company's result based performance and accountability system and driving knowledge harvesting and transfer across the business.
He previously worked in various divisions and departments within the Company, including: Managing Director's Office, Corporate Planning, Technical Audit and Institutional Strengthening.
Departments:
Strategy and Innovation
Ms. Elizabeth Njenga - General Manager, Business Development and Strategy
Elizabeth is building on over 15 years in strategic and project planning in the Energy Sector while working with KenGen in various positions. Elizabeth is a well skilled Energy strategy and power projects planning, appraisal and financing expert with a keen interest in Public Policy.
She holds a master's degree in Business Administration from the University of Nairobi; a Bachelor of Arts (Accounting & Economics) from Moi University and a Post graduate Diploma in Financial Management. She is also a Certified Public Accountant of Kenya CPA (K) and currently pursuing a Master's degree in Public Policy in Strathmore University.
Currently serving as the Business Development Director, she has been working as the Capital Planning and PPP Manager since 2014, and previously as Capital Planning and Strategy Manager between 2009 and 2014.
Her current responsibilities include implementing KenGen's power generation capacity expansion strategy from ideation of suitable power projects and appraisal of the same through feasibility studies, procurement of power plant consultants and contractors, managing construction of power projects as well as driving the implementation of KenGen's first Public Private Partnership (PPP) project while also looking at new non-power generation business opportunities.
Departments:
Capital Planning & PPP; Projects Execution and New Business.
Eng. Julius Odumbe - General Manager, Operations
Eng. Julius Odumbe is a licensed Consulting Engineer with an illustrious career in Operation and Maintenance (O&M) of equipment spanning over 30 years.

He holds a Master of Business Administration (MBA) Degree from Jomo Kenyatta University of Agriculture and Technology (JKUAT) and Bachelor of Science Degree in Mechanical Engineering from the University of Nairobi and a Diploma in Project Management from Galilee College, (Israel).

He holds several professional leadership certificates in Corporate Senior Leadership Management Program (SLMP) from Strathmore Business School & Nanyang Technological University – Singapore, Executive Leadership (Georgetown Engendering Executive Program) from George Town University, Self-Awareness and Effective Leader from Rice University and Balanced score card from Strathmore Business School among many others.

His eminence in engineering field propelled him to the highest Engineering category of a Fellow in the Institute of Engineers of Kenya (IEK) and licensed consulting Engineer by Engineers Board of Kenya (EBK).

Prior to his appointment as General Manager Operations, he was the Regional Manager, Eastern Region. His key responsibilities included: overseeing Operations and Maintenance of power plants to ensure high plant availability at optimized operational costs, rehabilitation, and upgrade of plants through uptake of latest technology to improve operation and extend effective plant life.

He was appointed as the General Manager Operations on 1st July 2022 where he is responsible for overseeing Operations and Maintenance (O&M) of all KenGen power plants, ensuring attainment of PPA target availability at optimized costs, Rehabilitation and upgrade of plants through uptake of latest technology to improve operation and extend effective plant life, Continuous improvement and automation of systems to align with best practice, optimum power dispatch and scheduling of major plant outages through effective collaboration with the off taker, facilitate design and implementation of optimum power evacuation arrangements, Involvement in power purchase agreement negotiations, Coordination of bulk energy billing and collaborating with key sector players to ensure a stable and secure national grid.

Departments:

Eastern Region, Western Region, Upper Tana, Geothermal Operations, Central Office Operations, Thermal Region, Technical Services and Electricity Dispatch.
Mrs. Mary Maalu - General Manager, Finance and Accounts
Mrs. Mary Maalu is a Finance Expert with extensive experience in Audit, Financial Management and Corporate Finance. She holds Master of Business Administration (MBA) and Bachelor of Commerce (B.Com) Degrees from the University of Nairobi. She is a Certified Public Accountant and a member of the Institute of Certified Public Accountants of Kenya (ICPAK).
She also holds a Certificate in Senior Leadership Management Programme (SLMP) from Strathmore University and a Certificate in Utility Regulation and Strategy from University of Florida.
Prior experience includes: Ernst & Young where she held the position of Assistant Manager Audit, Kenya Airways where she held several Management positions including: Manager Credit Control, Manager Outstations and Manager Treasury.
She joined KenGen in January 2011 as the Corporate Finance Manager. Her key responsibilities included raising capital for power generation projects, securing working capital facilities, Project Finance and Accounting, Treasury Management financial modelling, cash flow forecasting, funds management, investments and foreign currency dealing, Tax planning and compliance, Revenue Billing and Collection, Power Purchase Agreements (PPAs) development and Investor Relations management.
She was appointed as the Corporate & Regulatory Services Director on 1st August 2020 where she is responsible for Regulatory Management, Stakeholder Management, Development and Negotiation of Power Purchase Agreements (PPAs), Quality & Safety Management programs, Communication, Community Engagement, Environment & Sustainable Development and Business Process Improvement.
Departments:
Regulatory Affairs, Quality & Safety, Communication, Community Affairs, Environment & Sustainable Development and Business Process Improvement
Mr. Philip Yego - General Manager, Supply Chain
Mr. Philip Yego is a Supply Chain Management expert with a wealth of experience in the Supply Chain industry.
He holds a Bachelor of Arts degree in Economics, Master of Business Administration in Finance, Professional Diploma in Procurement and Supply from the Chartered Institute of Procurement and Supply (CIPS-UK) and a diploma in Purchasing and Supplies Management from Kenya Institute of Management. He is a member of the Kenya Institute of Supplies Management (KISM), Kenya Institute of Management (KIM) and the Chartered Institute of Purchasing and Supplies (MCIPS).
He joined KenGen in October 2014 and is responsible for providing oversight in the efficient and effective operations of the Supply Chain Division, which is a key enabler and driver of the KenGen business spectrum.
He oversees the overall management of Tenders, Contracts administration, management and monitoring, Logistics and Inventory operations within the Company, key stakeholder Relationship management, Supply Chain compliance to the relevant Laws and policies.
Prior to joining KenGen, he worked in senior management positions in various institutions which include the Kenya Agricultural Research Institute (KARI), University of Nairobi Enterprises and
Services (UNES), Uchumi,Postbank and Kenya Commercial Bank (KCB). Beyond the practitioner world, Mr. Yego has added the unique technical skills in the academic sector. He also worked at Kenyatta University as a Lecturer.
Departments:
Tenders, Contracts, Logistics, and Inventory
CS Austin Ouko - Company Secretary and Legal Affairs Department
JSM, LL.M, LL.B, FCIArb, FCS
Austin A. O. Ouko is the Company Secretary & General Manager – Legal Affairs at Kenya Electricity Generating Company PLC (KenGen). He has seventeen years' experience in both public and private sectors.
He is an Advocate of the High Court of Kenya, Commissioner for Oaths, Notary Public, registered Certified Public Secretary, Fellow of the Institute of Certified Secretaries Kenya, Fellow of the Chartered Institute of Arbitrators (UK & Kenya Branch), an Accredited Governance Auditor, member of the Law Society of Kenya, the International Bar Association, the Commonwealth Lawyers Association and the Kenya Institute of Management.
He holds a Bachelor of Laws (LL.B) and Master of Laws (LLM) in Public Finance & Financial Services Law from the University of Nairobi, Master of the Science of Law (JSM) from Stanford University Law School, California, USA. Mr. Ouko holds a Diploma in Law from the Kenya School of Law, Practice Diploma in International Commercial Law from the College of Law of England & Wales, Postgraduate Diploma in Domestic Arbitration from the Chartered Institute of Arbitrators, Advanced Diploma in Business Administration and a Diploma in Management of Information Systems.
FCS Ouko joined KenGen from the National Social Security Fund where he was the Ag. General Manager-Corporate Affairs/Corporation Secretary since December 2013. He was previously, the Legal Manager at National Social Security Fund and Senior Legal Officer at the Standard Group Limited.
Departments:
Insurance, Legal, Shares & Board Services and Property
News Highlights