KenGen's Centre of Excellence (COE) offers premium industry services as outlined in the tabs below:
Consultancy
The consultancy team is responsible for seeking consultancy opportunities and coordinating all activities relating to consultancies within the Geothermal Division.
KenGen offers Consultancy Services in the following areas:
The Training Centre is domiciled within the Olkaria Geothermal Development Division with the mandate of facilitating capacity building for the staff in the Olkaria geothermal project area as well as other KenGen operation areas. The GTC was inaugurated on July 10th 1989 for drilling operation staff through sponsorship by Petro-Canada International Corporation.
However the centre has grown into offering other trainings including geosciences, basic computer skills, environmental sciences, geothermal technology, safety, management skills and drilling technology.
Currently KenGen is utilizing the GTC services at Olkaria in training its staff in Olkaria and other areas and offering internships for students from local and international students.
KenGen-Geothermal Training Centre is one of the five Regional Flagship TVET institutes under the Government of Kenya initiative and World Bank to offer specialized skills that are market driven for industry.
Vision
To be globally recognized regional Centre of Excellence in development of skills requirement in energy sector that will contribute to sustainable development of energy resources.
Mission
To provide quality, practical and technology based learning, research and innovation for competency in the development of energy resources in a sound environmental and sustainable manner that addresses challenges of skills inadequacies in the energy sector
Objectives
The KenGen-GTC objectives are as follows;
To build capacity in energy sector and close technological gaps through hands on training and practical training
Promote innovative research and collaborations in energy technology in both academia and industry for optimised capacity development
Strengthen linkages with academia and industry to foster attainment of trainings that provide societal solutions
To add value to its stakeholder that includes partner institutions by advocating for their involvement during project implementation

Current Training Areas
Geothermal resource exploration and development
Drilling technology
Geothermal resource exploitation and monitoring,
Production and environmental management.
Project planning & management,
Geothermal Reservoir
Steam field management
Occupational health and safety
Procurement and materials management
Environmental Science Studies
Power systems
Applied sciences; analytical chemistry, GIS, Geology, Geophysics, geochemistry
Our Strengths
Accessibility to training facilities within all KenGen projects
Availability and accessibility to modern drilling, power plants, labs and workshops equipment
Capacity Development Pioneers & leaders in Geothermal in Africa
Majority of our instructors are recipients of various advanced trainings and exposure in Germany, New Zealand, USA and Japan among others.
Pool of Trainers/experts selected from an experienced group of company staff
Collaboration with Local & International Universities on research
MOU's and Collaborations
KenGen GTC has been key in establishment of Memorandum of Understanding (MoU) with other institutions both (local & international) so as to leverage on benefits of partnership and linkage and to keep up with advances in research and technology. These include institutions like United Nations University-Geothermal Training Programme, University of Twente-ITC, University of Texas El Paso, Dedan Kimathi University of Technology, Kenyatta University and Jomo Kenyatta University of Agriculture and Technology, Utilities of Power Africa (APUA).
Through the partnerships with such institutions, GTC has been able to build capacity and offer exposure to staff via sponsored and joint programmes in which staff have benefitted
GTC has been active in seeking external funding support and from various agencies including; Association of Power Utilities of Africa (APUA), World Bank, UNEP, UNU-GTP through which we've acquired funds and scholarships for staff
KenGen GTC has also been selected as a Centre of Excellence (CoE) and beneficiaries of three (3) different initiatives and projects that will support training centre infrastructure, training programmes and equipment who are highlighted below;Association of Power Utilities in Africa (APUA)
Association of Power Utilities in Africa (APUA)
East Africa Skills for Transformation and Regional Integration Project (EASTRIP)
African Geothermal Centre of Excellence (AGCE)
Association of Power Utilities of Africa (APUA)
KenGen Geothermal Training Centre (GTC) is among the eight Centers of Excellence appointed by Association of Power Utilities in Africa (APUA) to offer training to the power utilities, which are members of APUA in the African Region. In June, 2017 an MOU was signed between KenGen and APUA and this set the stage for Geothermal Training Centre to offer training in the Africa Region. The Centre is part of the eight Centres of Excellence under the auspices of African Network of Centres of Excellence in Electricity (ANCEE)
KenGen was awarded a training contract by APUA under ANCEE training Cycle 3 to train Rwanda Energy Group (REG) on various programmes

Rwanda Energy Group (REG) employees trained in six (6) modules
East Africa Skills for Transformation and Regional Integration Project (EASTRIP)
EASTRIP is a capacity building project World Bank (WB) funded project with support from government of China and Korea. The proposed project is participated by three (3) East Africa Countries that are along the Northern Corridor Integration Project namely; Kenya, Ethiopia and Tanzania. The project is being implemented by 16 Regional Centres of Excellence (CoEs) that have been competitively selected from the 3 East Africa countries as follows; Kenya (5), Tanzania(4) and Ethiopia (7).
KenGen-GTC has been selected as the regional TVET Centres of excellence in geothermal energy. The Centre was awarded 10.8 Million USD grant towards upgrading of GTC; training and accommodation infrastructure development.



Workshop participants at the 2nd Africa-China-World Bank Education Partnership Forum
UNU-GTP Short Course on Geothermal Exploration and Development
KenGen in collaboration with the United Nations University Geothermal Training Program have been hosting the short course training on geothermal exploration.
Apart from capacity building, the training provides an opportunity for the Company to market its human resource expertise in geothermal development, being the pioneer organization that has developed geothermal resource for the last 50 years.

UNU-GTP short course participants
Other partnerships include:
Africa Geothermal Centre of Excellence (AGCE)
University of Twente-ITC, Netherlands
Dedan Kimathi University of Technology
Kenyatta University
Jomo Kenyatta University of Agriculture and Technology
Moi University School of Environmental Studies,
Egerton University, University of Nairobi Institute of Nuclear Science
Ministry of Energy Department of Geothermal
Kabarak University
University of Potsdam
Geomatics team provides survey, cartography and GIS services to the Company, and other organizations. The section has state of the art equipment such as total station, Geodetic GPS Surveying system and modern ammonia printing machine. Data processing is computerized.
The Information Science Subsection is responsible for information management within the project.
Provides custody for all geothermal knowledge resources and literature through their library and archives. The sub-section also controls usage and dispensation of the knowledge resources and also provides relevant update information and news to the division e.g. energy news, internal weekly news via trails of ongoing project activities and update and acquisition of journals.
Research
KenGen cooperates with national and international institutions in carrying out important research on various aspects of geothermal development and .
Some of the areas of cooperation have included:-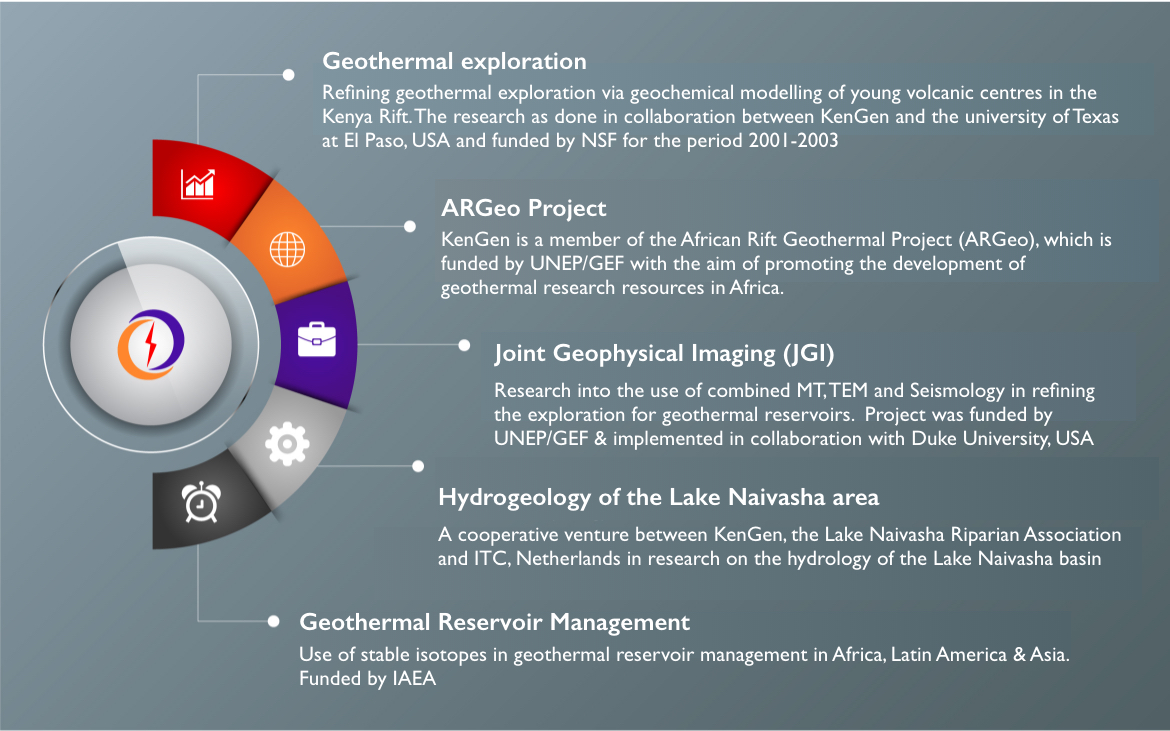 Other research areas of Collaboration
KenGen has continued to collaborate with local universities, the United Nations University as well as other government departments in research and training in such areas as environment, geology and hydrogeology, and sustainability of use of Lake Naivasha.
Areas of research and collaboration currently being pursued include:-
Assessment of suitability of Bentonite deposits in Meru and Isiolo as geothermal wells drilling mud.
Use of brine for geothermal well cementing.
Conversion of power station blowdown into potable water.
Use of geothermal brine for rehabilitation.
Use of geothermal brine for fish farming.
Use of brine for horticulture.
Use of geothermal steam for cooling.
Modification of silencers.
Design of Improved Well Testing Facility and Commercial Heat Exchanger- Grant of about 9 million from National Council of Science and Technology.
Increasing Efficiency in the Utilization of Brine to run a Binary Power Plant.
Pre-cast Pre-stressed Concrete Pavement (PPCP).
Use of Modern Survey Techniques in Optimization of Geothermal Power Harvest.
Real Time Relaying of Geothermal Information and Data Directly from the Field to Computer Server using GSM and GPRS Technologies of Mobile Mapping and GIS.
Improvement of Cooling Towers in Olkaria I.
Investigating the Possibility of Harnessing Gravitational Energy using an Actuating Lever Arm Mechanism.
Designing & Fabrication of Aluminium Sheet Rolling Machine and Aluminium Ridge Making Machine.
Sustainability of Lake Naivasha
Well testing facility, commercial heat exchanger, and gas abatement.
Remote management of water levels in tanks at Olkaria.
Assessment of cooling circuit water to control acid erosion, elemental sulphur deposition and microbiological fouling: case study of Olkaria II
Precipitation chemistry and air quality monitoring associated with geothermal operations
Consultancy Services Underaken
KenGen has undertaken a number of projects for other institutions regionally and internationally. They include the following:-
The Tulu Moye Geothermal Operations Plc in November 2018 issued a tender for Provision of Drilling Services for Geothermal Wells in Tulu Moye, Ethiopia. KenGen won the bid to provide geo-scientific survey and drilling eight geothermal wells. Works to begin soon
KenGen in consortium with Shandong Kerui Petroleum Equipment Company Limited and Shandong Kerui Oilfield Service Company limited was awarded a contract in December 2018 by the Ethiopian Electric Power (EEP) for the supply of drilling rigs and its accessories as well as rig operation and maintenance for drilling geothermal wells at Aluto, Langano in Ethiopia
Geoscientific Investigations for AKIIRA an Independent Power Producer in July - August 2019
Detailed geoscientific study of Barrier Volcanic Complex (BVC - use of the techniques of geology, geophysics and geochemistry to develop a geothermal conceptual model of Barrier Volcanic Complex for siting target wells for drilling in March 2019
Hydrogeological survey for ground water mapping and assessment in Wajir County using geophysical methods in Jan 2019
Geological studies in Djibouti- with Iceland GeoSurvey (ISOR) in 2018
Seismic Refraction and multichannel analysis of surface waves (MASW) surveys for Sogea Satom Company November 2018
Drilling services and water supply for AKIIRA an Independent Power Producer in 2017
Well tests measurements for OrPower4, Inc, an Independent Power Producer
Geoscientific Investigations of the Kapisya and Chinyunyu Geothermal Fields, Zambia
Sudan geoscientific studies in Bayuda from April 2012- July 2012
Geophysical investigations in Djibouti in 2008
Geoscientific Investigations in the Comoros in 2008
Geoscientific Investigations in Rwanda in 2008
Reconnaissance survey in the Comoros in 2008