Page 1 of 4
GEOTHERMAl STEAMFIELD MANAGEMENT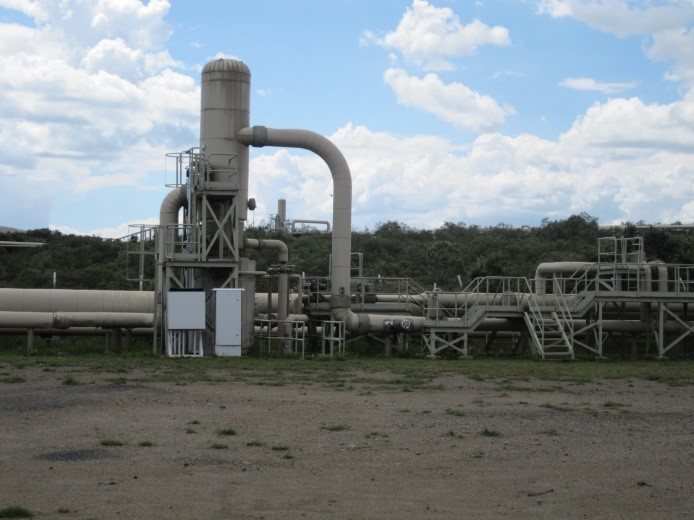 A typical cyclone separator for separating steam from brine with over 99.5% efficiency
Geothermal energy is the heat that is trapped underground and which can be tapped to generate electricity and for direct use applications. The heat energy contained deep in the earth's crust is transported to the surface when the hot rocks interact with the ground water causing the water to be heated and form a reservoir of hot pressurized fluids known as a geothermal reservoir. The heated water is normally accessed by drilling of a well into the geothermal reservoir which allows the hot pressurized fluids to flow to the surface or in some cases, the fluids need to be pumped. The geothermal energy then reaches the surface in form of hot water, steam or two phase fluids. It is the heat energy in the geothermal fluids that is converted to electricity or used for direct use applications such as space heating.
A geothermal steamfield refers to the infrastructure required to receive the geothermal fluids from the drilled wells, separate the fluids into liquid and steam components and efficiently and safely transport the fluids to the energy conversion units. The geothermal steamfield also includes the infrastructure required to safely dispose the spend fluids leaving the energy conversion units. A geothermal steamfield has to be managed to ensure safe and efficient performance.
A typical geothermal steamfield consist of an array of equipment that include different types of valves, insulated steam and brine pipelines, separators, instrumentation and control equipment, safety and pressure relieving equipment, condensate drain equipment among others.