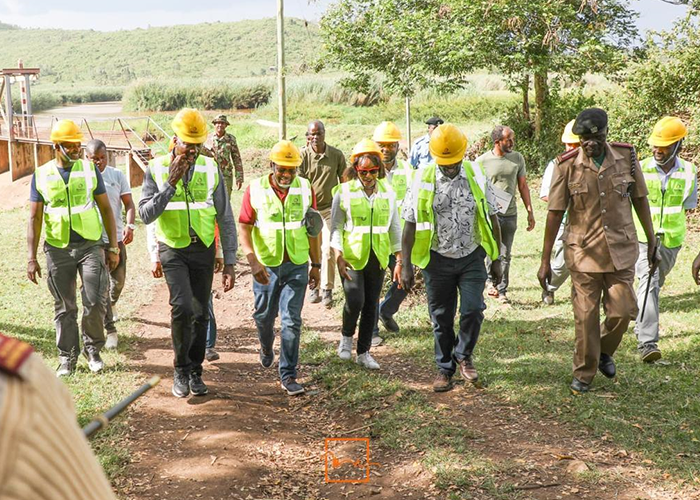 Nairobi, Monday, October 9, 2023: Kenya Electricity Generating Company PLC (KenGen) has received a landmark approval from the Cabinet to embark on the Gogo Hydropower Redevelopment Project, heralding a new era of progress for Western Kenya and a significant stride toward clean energy.
This decision, made during a Cabinet meeting, chaired by His Excellency, President William Ruto at State Lodge, Kisumu, brings a ray of hope to the people of Western Kenya, who stand to reap significant benefits from this transformative and climate resilient project.
The Gogo Hydropower Redevelopment Project, situated along the picturesque banks of River Kuja in Migori County, is a visionary initiative poised to elevate the dam's electricity generation capacity from 2MW to a robust 8.6MW.
Beyond its economic impact, this transformative endeavour aligns with Kenya's commitment to clean energy and bolsters its efforts to achieve the 100% clean energy targets outlined in the global climate action agenda.
"The Cabinet's approval of the Gogo Hydropower Redevelopment Project is a momentous milestone for the people of Western Kenya and a testament to the government's commitment to regional development," said KenGen Managing Director and CEO, Eng. Peter Njenga.
He added, "This project not only signifies progress in the energy sector, but also holds the promise of economic growth, job creation and improved livelihoods for our communities while contributing to our clean energy goals."
The existing power plant, with its origins dating back to 1958, has admirably served its purpose, but now suffers frequent breakdowns and the challenges of sourcing spare parts due to its aging infrastructure.
With the Cabinet's green light, the Gogo Project is set to rejuvenate the reliability of power supply, while stimulating socio-economic activities across the entire Nyanza and Western Kenya Regions.
Western Kenya is no stranger to the vital role of Kenya's power generation. The region already hosts several significant power plants, including, Sondu Miriu Hydropower Plant, generating an impressive 60MW, Sang'oro Hydropower Plant with a capacity of 20MW and the substantial Turkwel Hydropower Plant, boasting a remarkable 105MW capacity. These existing power facilities have been essential in meeting the region's energy needs and fostering economic growth.
The people of Western Kenya in particular, are poised to benefit significantly from these combined efforts. The increased power generation capacity of the Gogo Hydropower Redevelopment Project, coupled with the contributions from existing power plants, will provide a reliable and steady supply of electricity. This, in turn, will boost local industries, create job opportunities and enhance the overall quality of life.
At the same time, the Cabinet has also given its unanimous approval to the Liquefied Petroleum Gas (LPG) Growth Policy. This strategic move not only reaffirms Kenya's commitment to environmental sustainability, but also cements the nation's position as a leader in green energy.
The LPG Growth Policy outlines a path to progressively reduce the dependence of 70% of Kenyan households on biomass, kerosene and other less eco-friendly cooking fuels. These measures are poised to reduce consumer prices, enhance public safety and have a profoundly positive impact on both public health and the environment.
. . . . . . . . . Ends ….......
Note to Editor:
About KenGen
Kenya Electricity Generating Company PLC - KenGen is the leading electricity generation company in the Eastern Africa region with an installed generation capacity market share of more than 60%. The company's primary business is to provide safe, reliable, and competitively priced electric energy for the country in an environmentally friendly and sustainable manner while creating value for its stakeholders.
Today, KenGen PLC has an installed generation capacity of 1,904MW, of which over 86% is drawn from green sources namely: Hydro (826MW), Geothermal (799MW), Wind (25.5MW), and about 253MW of Thermal.
For media queries please contact:
Frank D. Ochieng, Tel:0721816896
This email address is being protected from spambots. You need JavaScript enabled to view it. or This email address is being protected from spambots. You need JavaScript enabled to view it.